Purple Heart Contest #7: Game Sprites
The goal of this contest is to create new custom graphics to spice up the game! Sprites are the images that are used to draw the game. Everything that you see on the screen is created from a few sprite sheets including: terrain , tanks, explosions, dust, splashes, radar, and awards. Creating sprites is not easy to do, so this contest is an advanced one. However, many players have created custom sprites, some of which won Purple Heart Contest #4 (see below) and are now featured in the game settings!
We have recently added support to the game for double sized sprites. With twice the number of pixels, this would allow players to create higher resolution sprites which would make the game look less pixelated when playing on a larger screen size. No 2X sized sprites exist yet, so we're interested in seeing what players come up with! 2X sprites should be exactly double the dimensions of the existing sprites.
We have also recently added support for customizing the award sprites. We don't expect that major changes would be done to the award sprites (for instance, the sizes of each award graphic remain fixed and no new awards are being added at this time), but this may allow players to tweak certain awards that they never liked.
Entries for this contest can be individual sprite sheets or whole themes consisting of mulitple sprite sheets. To get started, you can download the existing game sprites here. Sprites involve transparency, so you'll need to use an image editor that supports it.
Test your own sprites by loading custom sprites in the game settings and playing with them, prior to submission. Either GIF or PNG formats can be used. Once they are perfected, send us your final submission via email or our contact form (as an attachment or a link).
Good luck! This contest closes on September 15, 2021.
Purple Heart Archives
We asked players to get creative and send us TankPit-themed t-shirt designs.
We haven't done anything with the winning designs -- yet -- but some players have printed their own t-shirts, so keep an eye out for players sporting TankPit apparel when you're out and about!
We've allowed players to customize the sprite graphics of the game. To spice up the game with new default graphics that players can select from, we asked players to submit their custom sprite sheets including terrain, tanks, explosions, dust, splashes, or radar.
The winning sprites, including the new themes Lava, Namek, Arid, and Boardwalk, have been added to the game and can be enabled via the graphics tab of the game settings! Here are some examples of new terrain sprites: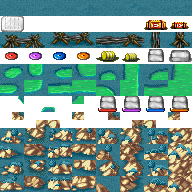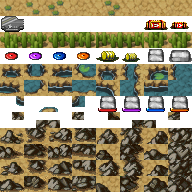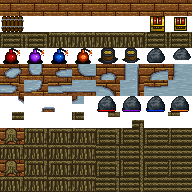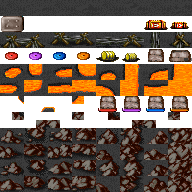 Nowadays, players link their favorite website and apps from their desktop. We asked players to create a cool, catchy, 152x152 pixel icon that could be used for TankPit!
Here are some of our favorite submissions: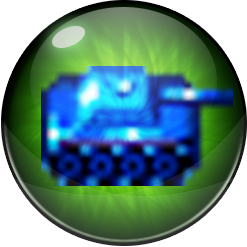 More icons are available for download!
For our first Purple Heart contest, we asked players to create a video up to 3 minutes long to feature and promote TankPit and get new players interested in the game.
Here are a few of our favorite submissions: